Restaurant Bookkeeping Software Case Study
We'll let our clients tell you what we do.
Discover how Bookkeeping Chef  has helped countless NYC restaurant owners, chain managers and hospitality entrepreneurs achieve a higher level of profitability and scale. Whether your business is a caterer, a local fine dining establishment or a national franchise, the need for accurate and timely cloud based financial reporting is essential for growth.  Satisfied customers and great reviews on Yelp are important, but the true measurement of how successful a restaurant is actually doing, is the profit and loss statements.    
Bookkeeping Chef provides comprehensive monthly restaurant specific bookkeeping, outsourced payroll, accounting software, and financial advisory services, to help your company eliminate overhead, streamline procedures to improve your company's bottom line.    Partnering with Bookkeeping Chef will enable your eatery to devote more time to the things you love like cooking great meals and keeping your customers happy.  

CLIENT: Tocqueville NYC   
Situation: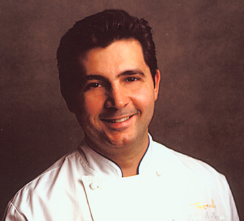 The ultra talented Husband-and-wife restaurateur team of Marco Moreira and Joann Makovitzky own 4 different restaurant ventures, including their upscale french American style cuisine called Tocqueville. The Tocqueville restaurant provides an outstanding dining experience and uses NYC local food source providers at every opportunity.  
Their restaurant manager was spending 10 to 15 hours paying vendors and bills and dealing with piles of paperwork clutter in their office.  Their lack of having a cloud based back-office bookkeeping system in place was preventing their company from having daily reporting of the critical numbers and data to make informed decisions.  
Solution:
They partnered with Bookkeeping Chef CPA, founder Scott Aber to provide bookkeeping, cash flow management and online bill payment services. Now the company's documents are stored in the cloud instead of their restaurant's office, which is giving them 24/7 access into the cash position of their business from any device they choose.  They also trusted to use his accounting firm to file their corporate tax returns as well.   
"They showed me a new way of organizing accounting in the cloud. By connecting and integrating our POS system daily sales numbers of the bookkeeping software, it reduced the amount of paper receipts by over 75%. I would highly recommend any restaurant business, small or large, to try Bookkeeping Chef. What they afford you is cost effective; it gives you time, and it gives you great peace of mind."  – Owner of Tocqueville Marco Moreira