In NYC, we have a great selection of ethnic, casual dining, and fine dining restaurants; as well as diners, delis, street vendors, juice and smoothie bars, coffee shops, and bakeries. However, the recent five years of record growth for the real estate market have increased commercial property rents for NYC's hospitality businesses.
But it's not just rising rents. Last year alone, a list of well known and revered restaurants closed their doors for reasons such as intense competition, rise in rents, and challenging regulatory environment, according to NYC Hospitality Alliance. For instance, Campbell Apartment's rent was raised and lost to a higher bidder at $1.1 million/year; Da Silvano's closed due to rising rents and inability to keep up with operating costs; Carnegie Deli closed at the end of the year; and many others closed their doors in 2016.
In an article in Food Republic, restaurateur Danny Meyer addressed the issue that he was unable to remain in the neighborhood where Union Square Cafe had called home for so many years. He understands landlords are for-profit businesses, but he feels some of the restaurants that have been forced to close were what made the neighborhoods what they are now.
No one denies, owning a restaurant in one of the biggest cities, is a great, risky endeavor with great rewards. There is a lot to take into consideration, so here are a few resources that will help you to guide the NYC regulations, stay compliant, set up your accounting practices, and even develop a business plan for profitability.
Restaurant compliance management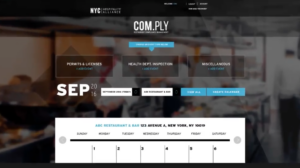 NYC Hospitality Alliance has introduced a compliance management web application that allows restaurant owners to keep track of when they should renew their permits and licenses, and be reminded of the inspection dates from the Department of Health in order for restaurants to keep their A grade for food safety. The Comp.ly app also allows businesses to track other compliance issues such as when to renew insurance policies and issue new labor law notices. The way it does this is by sending your team email reminders and calendar invites to keep your staff and restaurant compliant.
In addition to the above handy application built by NYC Hospitality Alliance, they've also launched a Hospitality Helpline. Meeting the on-demand nature of business today, experts are a phone call away.
Need to have all NYC regulations for restaurants in a handy guide? NYSRA has developed an intensive Restaurant Owner Manual in collaboration with the Mayor's Office of Immigrant Affairs and other New York City Agencies like the Department of Small Business Services.
"The manual highlights key regulations and best practices critical to all restaurant owners such as health and safety requirements, licensing rules, immigration and labor laws and more."
Visit NYSRA.org to download the restaurant owners manual. NYSRA also provides advocacy and classes, such as ServSafe classes, a widely accepted food safety and alcohol service training program in the industry recognized by many local, state and national health department officials across the country.
Here at Bookkeeping Chef, we have a good amount of resources as well, both on our blog and within this helpful ebook, Better Bookkeeping for Chefs and Restaurants. In it you will find some tips on:
Accounting system setup

Financial Forecasts & Projections

Bill Payment and Payroll

How to set up proper inventory management & controlling waste

Keeping Accurate records and avoiding a sales tax audit

Staying in Compliance with Dept. of Labor

Writing off vehicle expenses
When you hire us to manage your bookkeeping, you will get high quality:
Monthly Profit And Loss reports

, so that you can see what your business made or lost,

A Monthly Balance Sheet,

giving you an idea of what you owe

Monthly Prime Food, Liquor and Labor Costs Analysis

to keep you on track

Monthly Bank Reconciliation

To make sure your cash is right

Monthly Credit Card Reconciliation
File your Monthly or Quarterly Sales Tax
Monthly Video Coaching Call for 30 mins
And, that's "Just A Taste" of the managed bookkeeping services we offer for restaurants and other hospitality businesses in New York City. Check out our pricing packages below.
The Kitchen Sink

Custom pricing for your business

Weekly Profit and Loss Statements

Know what you made or lost for the week

Weekly Balance Sheet

Know what you own and who you owe

Weekly Prime Costs Reports

Food & Liquor
Labor Costs by Dept.
Prime Costs Summary in Dollars and Percentages

Paperless Accounts Payable

This is huge!!!!
Get rid of that old file cabinet
All your invoices online
No lost invoices–and we know you lose them!
Know what you owe each week
You decide what to pay

Weekly Bank and Credit Card Reconciliation

All bank and credit card accounts synced and balanced to Quickbooks Online

Weekly Payroll Analysis by Department

We sync your payroll weekly with Quickbooks Online
Know what you spend each week by dept.

File your Monthly or Quarterly Sales tax

Give the government their cash

Monthly Video Coaching Call for 30 mins

Tell us what's on your mind

Access all reports on your phone or tablet

Monthly Profit And Loss

Know what you made or lost

Monthly Balance Sheet

What I own and who do I owe

Monthly Prime Food, Liquor and Labor Costs Analysis

Do my costs make sense this month

Monthly Bank Reconciliation

Gotta know if my cash is right

Monthly Credit Card Reconciliation
File your Monthly or Quarterly Sales Tax

Give the government their cash

Monthly Video Coaching Call for 30 mins

Tell us what's on your mind

FEATURED

Give me the works

Daily Food & Liquor Costs––IRT

Your New POS for the Back of the House
Management and kitchen will know the daily spend when they have their morning coffee
See on your phone or tablet all invoices from the day before
Set weekly budgets and keep on track
Keep track of vendor credits easily
Detailed food & liquor costs

Daily Sales Analysis by Department

A great tool for doing analysis

Weekly Profit and Loss Statements

See more detailed food & liquor costs
Know what you made or lost for the week

Weekly Balance Sheet

Know what you owe and who you owe

Weekly Prime Costs Reports

Food & Liquor in detail
Prime Costs Summary in Dollars and Percentages

Paperless Accounts Payable

This is huge!!!!
Get rid of that old file cabinet
All your invoices online
No lost invoices and we know you lose them
Know what you owe each week
You decide what to pay

Weekly Bank and Credit Card Reconciliation

All bank and credit card accounts synced and balanced to Quickbooks Online

Weekly Payroll Analysis by Department

We sync your payroll weekly with Quickbooks Online
Know what you spend each week by dept.

File your Monthly or Quarterly Sales tax

Give the government their cash

Monthly Video Coaching Call for 30 mins

Tell us what's on your mind

All reports on your phone or tablet